Snow Making Hose
The Ultimate Snowmaking Hose
Let it snow. Whenever you choose.
True to form, Mercedes Textiles Ltd. has developed a snowmaking hose that delivers superior performance and durability while enduring some of the harshest working conditions out there. Snowmaking hoses face demanding conditions that dish out frigid temperatures, UV exposure and high pressures, quickly breaking down all but the best snowmaking hose. These challenging conditions call for innovative solutions that will deliver peak performance from your snowmaking systems - no matter what the conditions.
Snowblaster 2000®
If you're looking to replace your existing snowmaking hoses, you've come to the right place! The Snowblaster 2000® isn't just a hose. This is a high-performance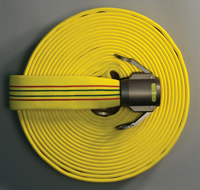 snowmaking hose, designed to beat the odds when it comes to mastering harsh winter conditions and the demands of snowmaking. Equipped with our unique Mertex® lining, this snowmaking hose not only delivers maximum flow to the gun, it also withstands the damaging effects of high pressure, chemicals, kinking, freezing and thawing.
We've also added our state-of-the-art Permatek HP® treatment to guard against moisture pick-up, abrasion and mildew; which means this snowmaking hose not only performs better, it lasts longer. Plus, the Snowblaster 2000® has a premium all-synthetic double jacket that remains flexible to -65ºF (-55ºC) and is resistant to most chemicals, petrol products, ozone and U.V. exposure, hydrolysis, rot and mildew.
Available in 9 colors: clear, tan, black, orange, red, blue, green, yellow or purple; you can choose the right hose for each piece of your snowmaking equipment. Various color combinations can be paired with our iDentify® Coding System; which features recessed areas on the hose couplings for reflective/bar coding or labeling, making it easy to keep your snowmaking gear organized and ready to go.
Available in four diameters: 1.50in/38mm, 2.00in/51mm, 2.50in/64mm, 3.00in/76mm; you can choose an appropriate hose size for every type of snowmaking task. The Snowblaster 2000® doesn't just stand up to the rigorous demands of high pressure snowmaking; it also meets or exceeds all performance requirements of NFPA1961, Underwriters Laboratories and Factory Mutual.
Simply Premium Snowmaking Hoses
Like all of our hose products, our snowmaking hose and couplings are designed, developed and manufactured in North America using NAFTA compliant materials and processes. Our snowmaking hoses also undergo thorough service, test and burst pressure testing to ensure our premium hose products are just that – premium snowmaking hoses. If you want innovation delivered; try the Mercedes Textiles Ltd. difference today; we're sure you'll be more than satisfied.